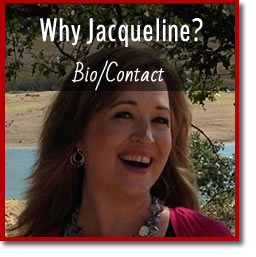 Testimonial: "We think we know so much about ourselves, what we want, what we need.  Jacqueline shines a soft light on all of that – and it is sometimes quite surprising what is revealed.  I had a guy going into the process, broke up with him, got back together, and then fell in love with him, for keeps.  Jacqueline saw all that from the beginning, but I didn't.  I mean I truly didn't. Dating was not the problem, falling in love was.  Jacqueline talks about our "deserve" level, why we attract who we do, what we really want from a relationship.  My work with Jacqueline brought me to a place of insight and balance,  and to the love of my life.  I am still a bit surprised by it all!" GB – In loving relationship
Love, dating, relationship and life guidance expert, Professional Matchmaker Jacqueline Nichols provides a wide range of personal, relationship and love support services. She has more than 20 years of experience supporting women and men to find success in their life, love and business. Through her years as a love expert she has matched incredible couples, saved many marriages and officiated multiple weddings.
Previous to building her Love Business she enjoyed the highly coveted status of driving the Pink Cadillac, while leading over 300 people achieving their dreams in business and life goals.
Over that time she has gained a unique perspective that truly makes a difference when individuals seek to raise their deserve level and enjoy life transforming results. Jacqueline has a long and successful history of inspiring dynamic achievements in others. Jacqueline is a powerful motivator and leads others to great accomplishments with her masterful guidance and spiritually intuitive gifts.
Jacqueline

 sold her original matchmaking business to focus her talents on people seeking insight to

raise their deserve level in all aspects of life, love and career

.



Her calling to work with people on their love journey continued to feel more true to her life purpose so she

re-started her Professional Executive Matchmaking Business again

knowing many people still desired her unique intuitive skills at matching

just the right people to find real love. 

Matchmaking is still in her heart so she opened her new agency – Awaken Your Future!
It's time to awaken to an entirely new future filled with true love.
SHE'S BACK
Now more singles will
find REAL LOVE
in Portland, Oregon!
What started as Jacqueline utilizing her spiritual gift to listen to the needs of people who wanted to find love, has now become a very successful and thriving company.  She began her original Professional Matchmaking Agency in 2010 based in Portland Oregon. She turned her devotion to supporting people in all stages of love and dating, into a thriving success with many love stories crediting her for their happiness opportunities.
Jacqueline has an intuitive gift that helps to support and coach people on their life and personal journey toward finding and enjoying success. Clients credit her ongoing support and professional advice to keeping their life, love and business enjoyable, long lasting and rewarding.
Realizing her power to transform in a positive and unique style inspired Jacqueline to start her personal service business. AwakenYourFuture.com, is Jacqueline's site to spread the word of how to discover gratitude in life and love to the audience craving her unique message.
Connect with Jacqueline at AwakenYourFuture.com and watch her inspiring and amusing YouTube Videos, watch videos of her guiding you to success and get tons of access for your Love Journey. Transform your life into the life you always wanted. Let Jacqueline encourage you, lead you, cheer you and celebrate with you. From her on going programs or one on one sessions and motivational speeches to empower groups. She teaches a new level of success and happiness that you have always deserved.